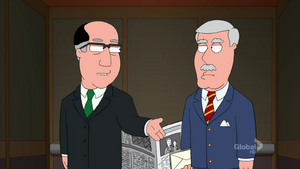 John de Lancie (born March 20, 1948) is an American actor. He has been active in screen and television roles since 1977, though he is best known for his recurring role as Q on the various Star Trek series, he has also appeared in Breaking Bad, Days of our Lives, My Little Pony: Friendship Is Magic and in Stargate SG-1.
John provides the voice of the Pewterschmidt Industries executive in the elevator with Carter Pewterschmidt in "The Old Man and the Big 'C'".
Ad blocker interference detected!
Wikia is a free-to-use site that makes money from advertising. We have a modified experience for viewers using ad blockers

Wikia is not accessible if you've made further modifications. Remove the custom ad blocker rule(s) and the page will load as expected.