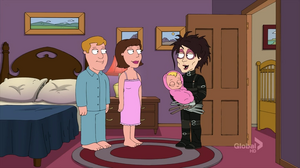 John Christopher "Johnny" Depp II (born June 9, 1963) is an American actor, producer and musician. Depp rose to prominence on the 1980s television series, 21 Jump Street, becoming a teen idol. Depp turned to film for more challenging roles; he played the title character of Edward Scissorhands and later found box office success in films such as Sleepy Hollow (1999), Charlie and the Chocolate Factory (2005), Rango (2011) the Pirates of the Caribbean film series and Dark Shadows (2012).
Johnny Depp reprises his role of Edward Scissorhands in "Lois Comes Out of Her Shell".
Ad blocker interference detected!
Wikia is a free-to-use site that makes money from advertising. We have a modified experience for viewers using ad blockers

Wikia is not accessible if you've made further modifications. Remove the custom ad blocker rule(s) and the page will load as expected.