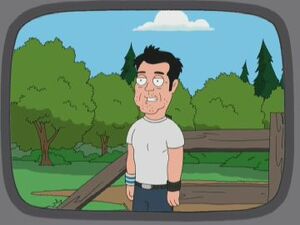 Phillip John Clapp (commonly known as Johnny Knoxville, born March 11th, 1971) is an American actor, comedian and stunts person. Knoxville is known for his work in the television series Jackass, as well as the movie and its sequels.
In "The Man with Two Brians", he guest stars as himself, hosting the episode of Jackass which Peter and his friends watch and become inspired to duplicate its stunts.
Ad blocker interference detected!
Wikia is a free-to-use site that makes money from advertising. We have a modified experience for viewers using ad blockers

Wikia is not accessible if you've made further modifications. Remove the custom ad blocker rule(s) and the page will load as expected.