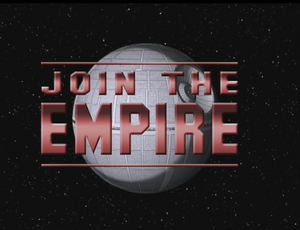 Join the Empire is a recruitment video for aspiring Imperial Stormtroopers wanting to become a soldier for the Empire. It was seen in Something, Something, Something, Dark Side. It would presumably be created some time after Star Wars Episode III:Revenge of the Sith by Darth Vader and Emperor Palpatine. It is the equivalent to an Army recruitment video, and explains all the benefits of becoming a Stormtrooper, including finding love and completing one's own education
Ad blocker interference detected!
Wikia is a free-to-use site that makes money from advertising. We have a modified experience for viewers using ad blockers

Wikia is not accessible if you've made further modifications. Remove the custom ad blocker rule(s) and the page will load as expected.