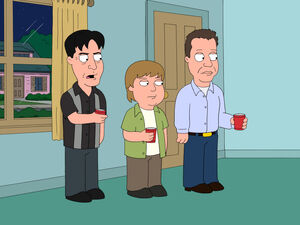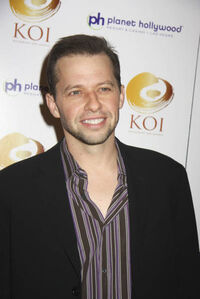 Jonathan Niven "Jon" Cryer (born April 16, 1965) is an American actor, screenwriter and film producer. He made his motion picture debut by starring in the 1984 romantic comedy No Small Affair, but gained greater fame by starring as "Duckie" in the John Hughes-scripted film Pretty in Pink. Since 2003 he has starred as Alan Harper on the CBS sitcom, Two and a Half Men, with Ashton Kutcher and Angus T. Jones. The show has parodied on Family Guy in "North by North Quahog" and "Ocean's Three and a Half".
He appears when the original cast of Two and a Half Men attend Brian's Class Holes! premiere party in "Brian Griffin's House of Payne". Jon also has an unspecified guest voice credit in "There's Something About Paulie".
In "Ocean's Three and a Half", Cryer, in-character as Harper, was voiced by J.P. Manoux.