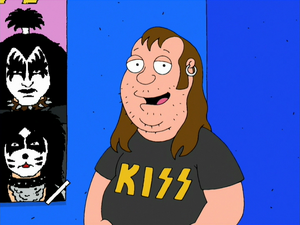 Jonathan Kolia "Jon" Favreau (born October 19, 1966) is an American actor, director, screenwriter, voice artist, and comedian. As an actor, he is best known for his roles in Swingers which he also wrote, Rudy, Very Bad Things, and The Break-Up. His notable directorial efforts include Elf, Iron Man, Iron Man 2, and Cowboys & Aliens. He also served as an executive producer on The Avengers and Iron Man 3.
Jon provides the voice of Donny Sciberra and the first bazaar salesman in "Road to Europe".
Ad blocker interference detected!
Wikia is a free-to-use site that makes money from advertising. We have a modified experience for viewers using ad blockers

Wikia is not accessible if you've made further modifications. Remove the custom ad blocker rule(s) and the page will load as expected.