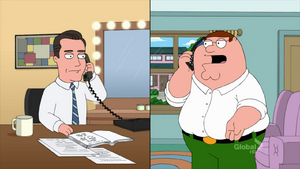 Jonathan Daniel "Jon" Hamm (born March 10, 1971), is an American actor who has appeared in several films and television shows, but is most famous for his portrayal of Don Draper in Mad Men.
Hamm voices himself in "Ratings Guy" when Peter makes his Man Men character a Star Wars Jedi.
Ad blocker interference detected!
Wikia is a free-to-use site that makes money from advertising. We have a modified experience for viewers using ad blockers

Wikia is not accessible if you've made further modifications. Remove the custom ad blocker rule(s) and the page will load as expected.