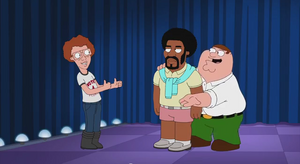 Jonathan Joseph "Jon" Heder (born October 26, 1977) is an American actor and filmmaker. He first appeared in the comedy film Napoleon Dynamite. Other film appearances include The Benchwarmers, School for Scoundrels and Blades of Glory and provided voiceover roles in the animated films Monster House as well as the Napoleon Dynamite animated series.
When explaining to Jerome why he should "Thank the Whites" in "Baby Got Black", Peter uses Jon Heder as an example.
Ad blocker interference detected!
Wikia is a free-to-use site that makes money from advertising. We have a modified experience for viewers using ad blockers

Wikia is not accessible if you've made further modifications. Remove the custom ad blocker rule(s) and the page will load as expected.