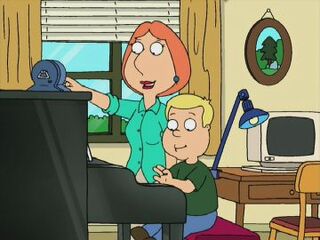 Jonas is one of Lois Griffin's piano students.
He is first seen in "Wasted Talent", where his playing is so bad she turns the clock forward to dismiss him as quickly as possible. Even though he insists he practices, she says she believes him in a sarcastically doubtful manner. Here, Jonas is voiced by Jonathan Osser.
He is seen again with brown hair while Lois and Brian discussed the latter's relationships in "Brian Wallows and Peter's Swallows". He performs "Piano Lesson" from The Music Man that session.