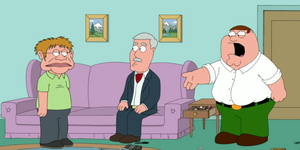 Jonathan William Lipnicki (born October 22, 1990) is an American actor. He is best known for his roles in the Hollywood films Jerry Maguire, Stuart Little, The Little Vampire, and Like Mike.
In "Welcome Back, Carter", it is revealed puberty disfigured him severely from the cute little child star he was at the height of his career. Peter Griffin would find this out when he employed Lipnicki in his attempts to get Carter and Barbara Pewterschmidt back together. Shortly after being parodied, the real Jonathan Lipnicki stated that he was not offended by this at all.[1]
Ad blocker interference detected!
Wikia is a free-to-use site that makes money from advertising. We have a modified experience for viewers using ad blockers

Wikia is not accessible if you've made further modifications. Remove the custom ad blocker rule(s) and the page will load as expected.