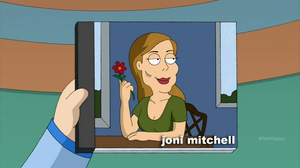 Joni Mitchell (born Roberta Joan Anderson; November 7, 1943), is a Canadian singer-songwriter and painter.
Rupert gets Stewie a Joni Mitchell CD for Christmas in "The 2000-Year-Old Virgin", disappointing him after he observed him picking out a heart-shaped necklace. As Stewie listens to "Both Sides Now" on the CD, he wonders who the necklace was for as it is revealed that it went to Mayor West.
Ad blocker interference detected!
Wikia is a free-to-use site that makes money from advertising. We have a modified experience for viewers using ad blockers

Wikia is not accessible if you've made further modifications. Remove the custom ad blocker rule(s) and the page will load as expected.