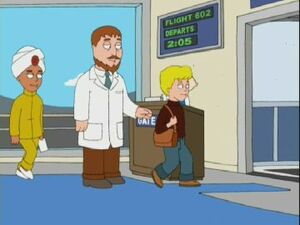 Jonny Quest, often referred to, but never titled on screen, as The Adventures of Jonny Quest, is a science fiction/adventure animated television series produced by Hanna-Barbera Productions for Screen Gems about a boy who accompanies his father on extraordinary adventures.
In a segment of Stewie Griffin: The Untold Story, Stewie Griffin is shown running an airline check in and singles out Hadji, a turban-wearing Indian, for a security inspection, forcing him to miss the flight with the others.
Ad blocker interference detected!
Wikia is a free-to-use site that makes money from advertising. We have a modified experience for viewers using ad blockers

Wikia is not accessible if you've made further modifications. Remove the custom ad blocker rule(s) and the page will load as expected.