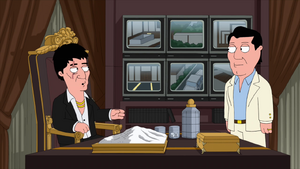 Josh Robert Thompson (born March 11, 1975) is an American actor, voice actor, impressionist and comedian, known for his celebrity impressions, including Robert De Niro, Arnold Schwarzenegger, Wilford Brimley, Willie Nelson, Sylvester Stallone, Matthew McConaughey and Morgan Freeman.
Josh provides assorted voices including Tony Montana in "Secondhand Spoke".
Ad blocker interference detected!
Wikia is a free-to-use site that makes money from advertising. We have a modified experience for viewers using ad blockers

Wikia is not accessible if you've made further modifications. Remove the custom ad blocker rule(s) and the page will load as expected.