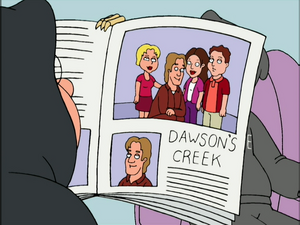 Joshua Jackson (born June 11, 1978) is a Canadian–American actor. He has appeared in primetime television and in over 32 film roles. He is best known for playing Charlie Conway in The Mighty Ducks film series, Pacey Witter in the television series Dawson's Creek and Peter Bishop in the television series Fringe.
Jackson appears with the rest of the main cast of Dawson's Creek in "Death Is a Bitch" when Death sends Peter out to cause a plane crash that will kill the entire cast of Dawson's Creek and prove that Death still exists after Peter shows off while Death is incapacitated.
Ad blocker interference detected!
Wikia is a free-to-use site that makes money from advertising. We have a modified experience for viewers using ad blockers

Wikia is not accessible if you've made further modifications. Remove the custom ad blocker rule(s) and the page will load as expected.