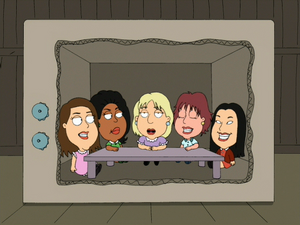 Josephina Victoria "Joy" Behar (née Occhiuto; born October 7, 1942) is an American comedian, writer, actress, and a co-host of the talk show The View for 17 seasons, leaving in 2013.
In the third "Family Guy Viewer Mail No. 1" segment "Li'l Griffins", when the kids are flipping channels they turn to an episode of The View, featuring young versions of its hostesses at the time, including Star Jones, Meredith Vieira, Behar, Barbara Walters and Lisa Ling.
Ad blocker interference detected!
Wikia is a free-to-use site that makes money from advertising. We have a modified experience for viewers using ad blockers

Wikia is not accessible if you've made further modifications. Remove the custom ad blocker rule(s) and the page will load as expected.