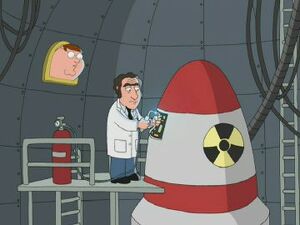 Judd Hirsch (born March 15, 1935) is an American actor most known for playing Alex Rieger on the television comedy series, Taxi, and Alan Eppes on the CBS series Numb3rs.
In "Blind Ambition", Peter Griffin, Glenn Quagmire, Cleveland Brown, and Mort Goldman are at the bowling alley when Peter looks into the bowling ball returner to see what's down there. While looking he encounters Hirsch, who is working on some sort of hazardous missile. Peter asks Hirsch what he is doing down there, but Hirsch simply replies with a nonchalant "nothing." Later, they learned he was supplying the Keebler elves with weapons for use in their assault on the Rice Krispies guys.
When Stewie is enrolled at Corridors, an exclusive preschool in "Take a Letter", he believes he is were he belongs just like Judd Hirsch at the giant sweater store, setting up a cutaway gag in which multiple versions of Judd shop for a giant sweater to fit all of them and are happy with one they choose.
In both appearances, he voices himself.
Peter tries to impress some cab drivers who are beating him up by spinning a tale about Hirsch in "Chris Has Got a Date, Date, Date, Date, Date", but they burn Brian's Prius that he was using while in the middle of story.
Hirsh is credited as Martha's Doctor Milton Fishbein during the song "Martha" in "Petey IV".