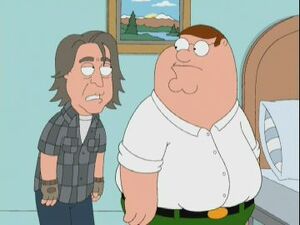 Judd Asher Nelson (born November 28, 1959) is an American actor. He is best known for his roles as John Bender in The Breakfast Club, Alec Newbary in St. Elmo's Fire and Jack Richmond in the TV series, Suddenly Susan.
He crashes at the Griffins' house a couple of times a week in the altered present in "Meet the Quagmires", presumably at the urging of former co-star Molly Griffin, Peter's wife in the year 2007A.
In Blue Harvest, voicing himself as John Bender, he asks "Does Barry Manilow know you raid his wardrobe?"
Ad blocker interference detected!
Wikia is a free-to-use site that makes money from advertising. We have a modified experience for viewers using ad blockers

Wikia is not accessible if you've made further modifications. Remove the custom ad blocker rule(s) and the page will load as expected.