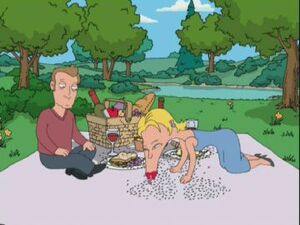 David Jude Heyworth Law (born 29 December 1972), known professionally as Jude Law, is an English actor, film producer and director.
He co-stars with Renée Zellweger in the film The Picnic that Peter Griffin and Carter Pewterschmidt watch at the movie theater in "Peterotica".
His hosting of Saturday Night Live when Ashlee Simpson lip-synced is seen in "Brian Goes Back to College", as he introduces the act.