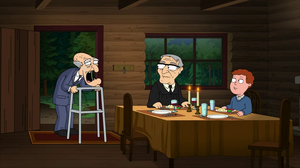 Judge Maynard and Timmy are a couple that Herbert intended to have a dinner date with in "Chris Cross" with Chris Griffin. But when Chris shows that he is slovenly and doesn't want to get ready to go out despite the three hour drive to the cabin where the Judge and Timmy are, he and Herbert have a spat and Chris leaves Herbert. When Herbert sees that Chris has made up with Meg to come back to his own home, Herbert drive to the cabin to cry to Judge Maynard and Timmy that he and Chris broke up.
Ad blocker interference detected!
Wikia is a free-to-use site that makes money from advertising. We have a modified experience for viewers using ad blockers

Wikia is not accessible if you've made further modifications. Remove the custom ad blocker rule(s) and the page will load as expected.