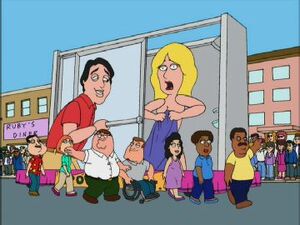 Judith Ellen Light (born February 9, 1949) is an American actress. Her television roles include Karen Wolek on the soap opera One Life to Live, Angela Bower on the sitcom Who's the Boss?, as well as roles in Ugly Betty, Law & Order Special Victims Unit and Transparent.
She is depicted on Peter Griffin's float in a parade in "Love Thy Trophy". The parade's theme was when Bower was seen naked in the shower by Tony in the second episode entitled "Briefless Encounter".
She also voices herself in "Untitled Griffin Family History" when Peter's oxygen tank gets mixed up with a tank of Tony Danza's breath.
Ad blocker interference detected!
Wikia is a free-to-use site that makes money from advertising. We have a modified experience for viewers using ad blockers

Wikia is not accessible if you've made further modifications. Remove the custom ad blocker rule(s) and the page will load as expected.