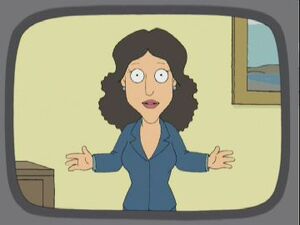 Julia Scarlett Elizabeth Louis-Dreyfus (born January 13, 1961) is an American actress and comedian best known for her roles as Elaine Benes on the NBC sitcom, Seinfeld, and as Christine Campbell on the CBS sitcom, The New Adventures of Old Christine.
She appears in "Boys Do Cry", in a commercial for a new sitcom, Now It's Just Getting Sad, where her co-star is an elephant, playing her husband.
She appears non-animated in a picture with her Seinfeld castmates in "You Can Find It on TV", a song performed by Brian and Stewie Griffin at the 59th annual Primetime Emmy Awards.