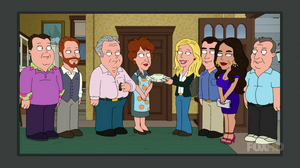 Julie Bowen Luetkemeyer, better known as Julie Bowen (born March 3rd, 1970) is an American actress most known for her Emmy-winning portrayal of Claire Dunphy on Modern Family.
Bowen guest stars as Claire in "The Simpsons Guy" when the cast of Modern Family meets the cast of All in the Family.
Ad blocker interference detected!
Wikia is a free-to-use site that makes money from advertising. We have a modified experience for viewers using ad blockers

Wikia is not accessible if you've made further modifications. Remove the custom ad blocker rule(s) and the page will load as expected.