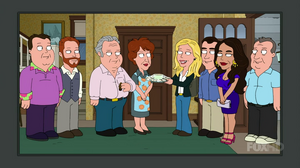 Julie Bowen Luetkemeyer, better known as Julie Bowen (born March 3rd, 1970) is an American actress most known for her Emmy-winning portrayal of Claire Dunphy on Modern Family.
Bowen guest stars as Claire in "The Simpsons Guy" when the cast of Modern Family meets the cast of All in the Family.
In "Emmy-Winning Episode", Peter seeks her and other celebrities out in order to find out how to win an Emmy.[1]