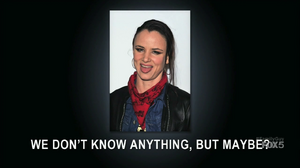 Juliette L. Lewis (born June 21, 1973) is an American actress and singer, known for her work in Cape Fear, What's Eating Gilbert Grape, Natural Born Killers, Kalifornia and From Dusk till Dawn.
In "The Heartbreak Dog", Peter wonders what kind of woman would make out with a dog after Brian kisses Bonnie. The image cuts to a shot of Juliette and the caption acknowledges that they don't know for sure, but questions the possibility.
Ad blocker interference detected!
Wikia is a free-to-use site that makes money from advertising. We have a modified experience for viewers using ad blockers

Wikia is not accessible if you've made further modifications. Remove the custom ad blocker rule(s) and the page will load as expected.