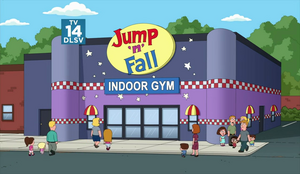 Jump 'n' Fall is an indoor gym where Stewie and Brian prepare for a performance as "Red Shirt, Blue Shirt" in "The Boys in the Band".
When Stewie is inspired to write and perform songs about issues that babies really care about when he gets tired of insipid adult singers that fail to do so, Brian joins him in forming a duet. After performing at a birthday party, Stewie's old flame Olivia Fuller sees that they are a success. She plots at first to get Stewie to drop Brian, working her way into becoming the president of their fan club at the Jump 'n' Fall, and later tries to convince Stewie to fire Brian from the act.
Ad blocker interference detected!
Wikia is a free-to-use site that makes money from advertising. We have a modified experience for viewers using ad blockers

Wikia is not accessible if you've made further modifications. Remove the custom ad blocker rule(s) and the page will load as expected.