The episode's title is a reference to a single of the same name by the Steve Miller Band.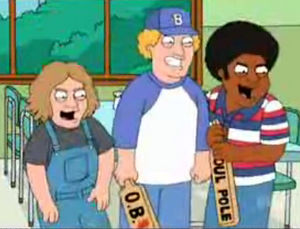 The scene in which Chris is beaten with paddles is from the film Dazed and Confused. As in the film, the song in the background is "No More Mr. Nice Guy" by Alice Cooper. Mayor Adam West's sequence is directly referencing Ben Affleck's character from the same film.
At different times, Peter and Quagmire had jobs as "Sandy Duncan's glass eye. Duncan, a Broadway and television actress, underwent surgery for a brain tumor in 1972. She said that she lost sight in one eye and unconfirmed rumors persist that it was removed and replaced with a prosthetic. Quagmire calls Sandy "Wheat Thins", referencing that she was a spokesperson for Wheat Thins.
Stewie is shown in a cutaway reenacting Dustin Hoffman's role from the film Tootsie.
The chief has a cousin named Vinny, who is Joe Pesci's character Vincent Gambini from the film My Cousin Vinny, impersonated here by Jay Mohr. Later, Peter actually refers to him as Pesci.
The chief says "Never had it, never will" and laughs. This was a commercial slogan for the 7 Up brand soft drink from the 1980's, indicating that 7-Up was always caffeine-free.
The ending when the Griffins are escaping from the natives is a spoof of a similar scene in the beginning of the Indiana Jones film Raiders of the Lost Ark, complete with the musical theme.