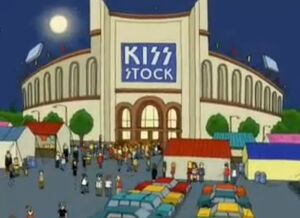 KISS Stock is a fictional music concert featured in "Road to Europe" and was the concert that Peter and Lois Griffin went to see KISS live. When Lois is revealed to not know the words to "Rock and Roll All Nite", Peter is humiliated and Gene Simmons and Paul Stanley walk off stage, leaving Ace Frehley and Peter Criss to perform the Charleston to "Chattanooga Choo Choo".
Ad blocker interference detected!
Wikia is a free-to-use site that makes money from advertising. We have a modified experience for viewers using ad blockers

Wikia is not accessible if you've made further modifications. Remove the custom ad blocker rule(s) and the page will load as expected.