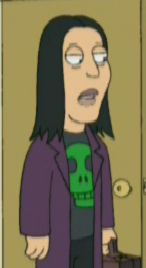 Kaleb was Brian Griffin's would-be roommate at Brown University in "Brian Goes Back to College". His hobbies are cutting himself and requests the top bunk. Stewie manages to convince him to look elsewhere by acting like a nerd.
Ad blocker interference detected!
Wikia is a free-to-use site that makes money from advertising. We have a modified experience for viewers using ad blockers

Wikia is not accessible if you've made further modifications. Remove the custom ad blocker rule(s) and the page will load as expected.