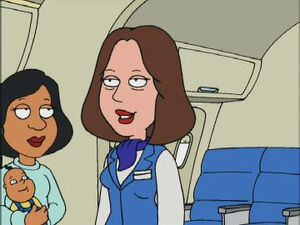 Karen Black (July 1, 1939 – August 8, 2013) was an American actress, screenwriter, singer and songwriter. She was noted for appearing in such films as Easy Rider, Five Easy Pieces, The Great Gatsby, The Day of the Locust, Nashville, Airport 1975, and Alfred Hitchcock's final film, Family Plot.
When Peter Griffin, as Death, accidentally kills the pilots in "Death Is a Bitch", she takes control of the plane and stops everyone from dying in a plane crash. She originally was a stewardess on the flight.
Ad blocker interference detected!
Wikia is a free-to-use site that makes money from advertising. We have a modified experience for viewers using ad blockers

Wikia is not accessible if you've made further modifications. Remove the custom ad blocker rule(s) and the page will load as expected.