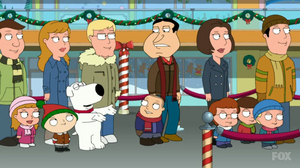 Karley Scott Collins (born December 14, 1999) is an American actress and voice actress. She is perhaps best known for her recurring role as Oprah Pearl on the CBS sitcom The Class, which aired from 2006 to 2007. Collins has also provided the voice of Gisela in Open Season 3.
She provides assorted voices in Family Guy, including Glenn Quagmire's niece, Abby, in "Road to the North Pole".
Ad blocker interference detected!
Wikia is a free-to-use site that makes money from advertising. We have a modified experience for viewers using ad blockers

Wikia is not accessible if you've made further modifications. Remove the custom ad blocker rule(s) and the page will load as expected.