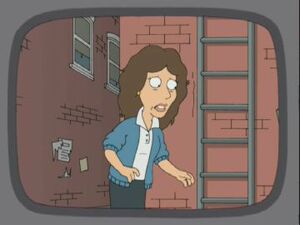 Kate Jackson (born October 29, 1948) is an American actress, director, and producer, perhaps best known for her role as Sabrina Duncan in the popular 1970s television series, Charlie's Angels. She is a three-time Emmy Award nominee, twice in the Best Actress category and once in the Best Supporting Actress category. She has also been nominated for several Golden Globe Awards, and has won the title of Favorite Television Actress in England, and Favorite Television Star in Germany several times for her work in the television series, Scarecrow and Mrs. King.
In "Deep Throats", she voices her character Amanda King, in a parody version of Scarecrow and Mrs. King.
Ad blocker interference detected!
Wikia is a free-to-use site that makes money from advertising. We have a modified experience for viewers using ad blockers

Wikia is not accessible if you've made further modifications. Remove the custom ad blocker rule(s) and the page will load as expected.