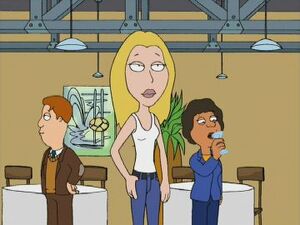 Katherine Ann Moss (born 16 January 1974) known as Kate Moss, is an English model. She has appeared on over 50 magazine covers and in magazine spreads . She is known for her waifish figure, uncommonly short height for a fashion model, and appearances in many advertising campaigns. She is also notorious for her high-profile relationships and party lifestyle.
She becomes Chris Griffin's girlfriend in "A Picture's Worth a Thousand Bucks" after he became a professional artist at the hands of Antonio Monatti.
She was voiced by Rachael MacFarlane.
Ad blocker interference detected!
Wikia is a free-to-use site that makes money from advertising. We have a modified experience for viewers using ad blockers

Wikia is not accessible if you've made further modifications. Remove the custom ad blocker rule(s) and the page will load as expected.