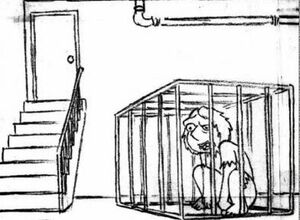 Kate Pewterschmidt is the sister of Lois Griffin to whom she bears a striking resemblance. She is referenced to at the end of the animatics part of the "Exclusive Online Content" in the Family Guy Volume 4 DVD set for "The Fat Guy Strangler". In the clip, Barbara Pewterschmidt asks Carter if Lois knows about "Kate" to which Carter quickly replies that no one knows about Kate. The scene cuts to Carter throwing a piece of meat into a basement next to a small cage. It holds what looks like a disfigured and savage form of Lois. She quickly snatches up the meat and eats it. This scene, however, was cut and never used in the actual episode.
As Kate has not yet appeared in an actual episode, her appearance is considered unofficial.
Ad blocker interference detected!
Wikia is a free-to-use site that makes money from advertising. We have a modified experience for viewers using ad blockers

Wikia is not accessible if you've made further modifications. Remove the custom ad blocker rule(s) and the page will load as expected.