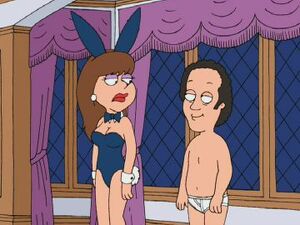 Kate Rigg is an American voice actress.
In "Model Misbehavior", she voiced Esperanza, the maid at the time for Barbara and Carter Pewterschmidt.
In the same episode, she voiced Brandi, a Playboy bunny that participated in Stewie Griffin's "Red Light, Green Light" game, and lost, resulting in her having to sleep with actor Rob Schneider. She explained that she was too young to remember Schneider's most notable Saturday Night Live skits.
She also voiced a character in the first segment of Stewie Griffin: The Untold Story, titled "Stewie B. Goode"