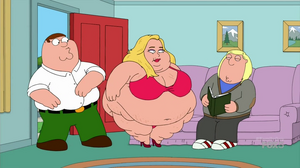 Katherine Elizabeth "Kate" Upton (born June 10, 1992 is an American model and actress, known for her appearances in the Sports Illustrated Swimsuit Issue, as well as the films Tower Heist and The Other Woman and a series of advertisements for Game of War.
Peter tries to win back Chris after he becomes high-brow in "Peter, Chris, & Brian" by presenting him with Kate Upton, but when Chris declines, Peter worries that Kate's "freshness" is about to expire just as she instantly blows up to giant proportions, forcing Peter to roll her back out the door.
Kate is listed as a celebrity that went on to be successful despite exposing themselves in "An App a Day".
Ad blocker interference detected!
Wikia is a free-to-use site that makes money from advertising. We have a modified experience for viewers using ad blockers

Wikia is not accessible if you've made further modifications. Remove the custom ad blocker rule(s) and the page will load as expected.