Kate Elizabeth Winslet (born 5 October 1975) is an English actress and occasional singer, known for her work in Sense and Sensibility, Titanic and The Reader.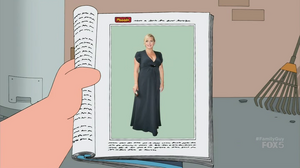 She appeared as Rose from Titanic in "Death Is a Bitch", when Jack, having been used as an example of a person saved by the nonexistence of death, tells her he has a girlfriend in New York.
When Peter and Lois Griffin were on their cruise in "Stewie Kills Lois", Lois felt like "the British chick from Titanic". Peter corrects her, believing the role was played by Philip Seymour Hoffman.
A live-action image of Winslet appears as Peter and the guys hold up a copy of People magazine in "Underage Peter". As they continue to drink, the image changes to continuously hotter women, before becoming Neil Patrick Harris.