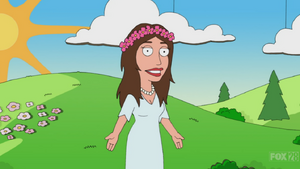 Katharine Hope McPhee (born March 25, 1984) is a singer and actress best known for being the runner-up of American Idol season 5. She can also be seen as Karen Cartwright on NBC's Smash.
McPhee is the third person to voice Mother Maggie, after Lauren Graham and Anne Hathaway. She voices the character in "You Can't Do That On Television, Peter".
Ad blocker interference detected!
Wikia is a free-to-use site that makes money from advertising. We have a modified experience for viewers using ad blockers

Wikia is not accessible if you've made further modifications. Remove the custom ad blocker rule(s) and the page will load as expected.