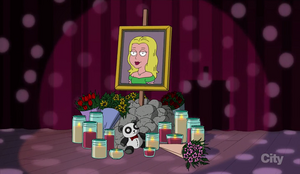 Kathleen Fitzpatrick is a girl who had attended James Woods Regional High School before dying in a car crash in "Run, Chris, Run" and is posthumously elected homecoming queen.
When Chris, who had been elected homecoming king, discovers that his election, like Kathleen's, was done out of pity, he storms off stage while kicking over her memorial, shouting that she was on PCP the night she was killed.
Ad blocker interference detected!
Wikia is a free-to-use site that makes money from advertising. We have a modified experience for viewers using ad blockers

Wikia is not accessible if you've made further modifications. Remove the custom ad blocker rule(s) and the page will load as expected.