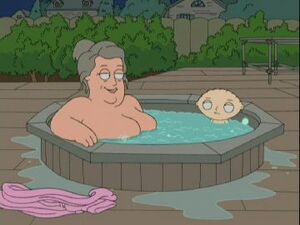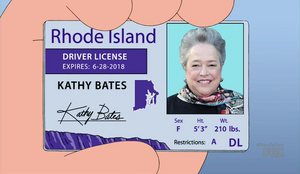 Kathy Bates (born June 28, 1948) is an American actress and director. After several small roles in film and television, Bates rose to prominence with her performance in Misery, for which she won both the Academy Award for Best Actress and a Golden Globe. She followed this with major roles in Fried Green Tomatoes and Dolores Claiborne, before playing a featured role as Margaret "Molly" Brown in Titanic. She also had a role in Failure to Launch.
In "The Father, the Son, and the Holy Fonz", Stewie Griffin bathes with Bates in a parody of a scene in About Schmidt. Ironically, Stewie would play Stewie Wilkes, a version of Bates's Annie Wilkes, in "Three Kings"'s version of Misery.
Yoda, played by Carl, names Bates's nude scene in About Schmidt one of the worst nude scenes in film history as part of his training of Luke Skywalker, played by Chris Griffin in Something, Something, Something, Dark Side.
Peter is remembered as Kathy Bates About Schmidt butt double in "Mom's the Word".
Peter gets caught using a fake ID in "The Finer Strings" with Kathy's picture. The clerk recognizes her as the lady who ate all of their pies.
Ad blocker interference detected!
Wikia is a free-to-use site that makes money from advertising. We have a modified experience for viewers using ad blockers

Wikia is not accessible if you've made further modifications. Remove the custom ad blocker rule(s) and the page will load as expected.