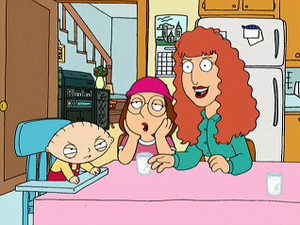 Kathleen Mary "Kathy" Griffin (born November 4, 1960) is an American actress, stand-up comedian, and Emmy Award-winning television personality. Griffin first gained recognition for appearances on two episodes of Seinfeld, and then for her supporting role on the NBC sitcom, Suddenly Susan. She was also the star of the Bravo reality show Kathy Griffin: My Life on the D-List, for which she has won two Emmy Awards as executive producer.
She is Peter Griffin's famous cousin in "A Picture's Worth a Thousand Bucks". Her incessant chatter leads the family to attempt to sedate her with drugs, though their attempt failed when Chris drank from the glass meant for Kathy.
She is also listed as one of the celebrities Peter hates in "420".
Alex Borstein portrays Griffin in a screen test for the movie The Piano in Family Guy Presents: Seth & Alex's Almost Live Comedy Show.
A drill sergeant at obedience school demands to know if Brian is Kathy in "Once Bitten" after he makes a joke, although the drill sergeant reports that he isn't laughing.