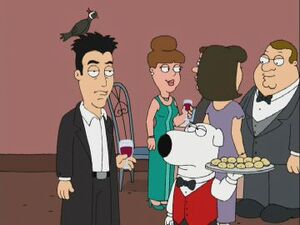 Keanu Charles Reeves (born September 2, 1964) is a Lebanese-born Canadian-American-British actor best known for his portrayals of Ted Logan in Bill & Ted's Excellent Adventure and Bill & Ted's Bogus Journey, Officer Jack Traven in Speed, Neo in the action film trilogy The Matrix and Johnny Utah in the surf drama Point Break opposite Patrick Swayze. He played bass guitar in the grunge band Dogstar during the 1990s, and more recently in the band Becky.
He appears in "Brian Does Hollywood" at a party where a woodpecker lands on his head.
He reprises his role from Speed for Speed 3: Glacier of Doom in "Lethal Weapons".
In "Stewie Kills Lois", he appears in the movie The Lake House where he gives Sandra Bullock an unexpected gift.
Ad blocker interference detected!
Wikia is a free-to-use site that makes money from advertising. We have a modified experience for viewers using ad blockers

Wikia is not accessible if you've made further modifications. Remove the custom ad blocker rule(s) and the page will load as expected.