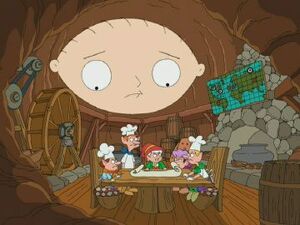 The Keebler Elves, led by Ernie Keebler, are animated spokescharacters for the Keebler cookie company. The elves have appeared in countless television advertisements throughout the years, shown baking their unique products. The Keebler tree logo reflects this characterization.
Leo Burnett's company created the elves in 1968, calling the bakery "The Hollow Tree Factory".
They appear in "Blind Ambition", where they are planning an attack on Snap, Crackle, and Pop as soon as Judd Hirsch delivers a weapon.
Ad blocker interference detected!
Wikia is a free-to-use site that makes money from advertising. We have a modified experience for viewers using ad blockers

Wikia is not accessible if you've made further modifications. Remove the custom ad blocker rule(s) and the page will load as expected.