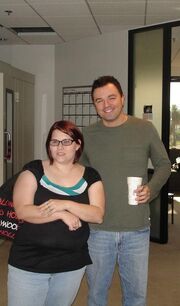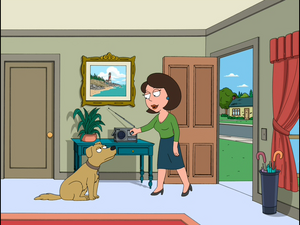 Kel MacFarlane is an avid Family Guy/general animation fan and is the webmaster of the Seth MacFarlane web site, Seth MacFarlane Unlimited. She is not related, but uses a pseudonym to express her fondness for Seth MacFarlane.
Kel was born and grew up in a small town in the state of West Virginia. She went to Glenville State College for two years to study computer web design and coding. In the fall of 2003, she had to have eye surgery due to a childhood eye condition called Congenital Toxoplasmosis and therefore didn't finish her studies. However, despite this setback, she stated designing websites not only about Seth MacFarlane but for a PI business. She hopes to return to school and finish her studies so that she can get paid to do what she loves, although she would also like to pursue more voice work in the future. Because of her guest work on Family Guy, she is officially a member of the Screen Actor's Guild (SAG).
She provides the voice of the woman who owns Barney the Dog in "Dog Gone", as the result of winning a Family Guy contest from MTV to fly to Los Angeles and have a voice cameo on the show. She finally met Seth at the Family Guy studio on August 5th, 2008 (pictured).