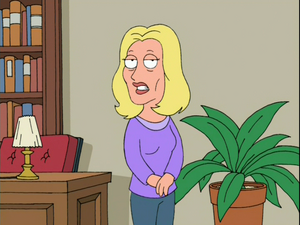 Kelly Ann McGillis (July 9, 1957) is an American actress whose movies include Witness, for which she received a Golden Globe nomination, Top Gun, and The Accused.
In 1982, McGillis was assaulted and raped in her home by the escaped rapist Leroy Johnson after McGillis came home from work. This experience encouraged the actress to pursue her film role as the lawyer who supports Jodie Foster's character in The Accused. McGillis was originally approached for the role of the rape victim in that film. She turned it down, feeling it would be too close to her real life ordeal. The part eventually went to Jodie Foster, who won an Oscar for her performance.
In "Brian Goes Back to College" she appears in an orientation film at Brown University assuring that the women present will be raped by all the guys present.
She is seen with Ellen Barkin as another of God's mistakes in "Hannah Banana".
Ad blocker interference detected!
Wikia is a free-to-use site that makes money from advertising. We have a modified experience for viewers using ad blockers

Wikia is not accessible if you've made further modifications. Remove the custom ad blocker rule(s) and the page will load as expected.