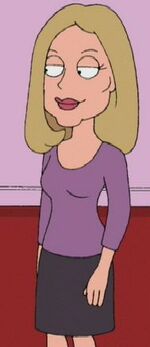 Kelly Maria Ripa (born October 2, 1970) is an American television host and actress. Since February 2001, she has served as the co-host of Live with Regis and Kelly, along with Regis Philbin. Earlier in her career, Ripa played Hayley Vaughan Santos for 12 years on the soap opera All My Children; she also played Faith Fairfield on Hope & Faith, also starring Faith Ford and Megan Fox. Both are television series on ABC.
According to her appearance in "Family Guy Viewer Mail No. 1" segment "No Bones About It", she is a man-eating alien. Philbin and Ripa provided their own voices for the gag.
An episode of Hope and Faith involving baked goods and sneezing powder exposes Stewie Griffin's odd laugh in "Brian Sings and Swings".
Hope mentions she watches Live with Regis and Kelly in "Livin' on a Prayer".
In "Call Girl", Peter is happy not to have to return to work on Live! With Kelly & Peter where Christine Baranski talks about her performances while Peter struggles to stay excited without knowing who she is. Here, Kelly is voiced by Jill Talley.
Brian compares Kelly to a Republican senator for not showing up for work in a tweet in "The D in Apartment 23".