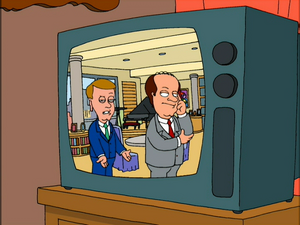 Allen Kelsey Grammer (born February 21, 1955), best known as Kelsey Grammer, is an American actor and comedian. He is most widely known for his two-decade portrayal of psychiatrist Frasier Crane in the NBC sitcoms Cheers and Frasier. He has been nominated for numerous Emmys, including one for playing Frasier Crane on three sitcoms, the third being a guest appearance on Wings. He has also worked as a television producer, director, writer, and a voice artist.
In "Peter, Peter, Caviar Eater", Brian forces his owner Peter to watch an episode of Frasier in an attempt to teach him how to act with class.
Dr. Crane also appears when Peter watches Cheers in "Road to Rupert".
In "Ratings Guy" Kelsey is the only one left when Peter enlists the television producers to save television. When Peter points out he has nothing left, Kelsey bids his farewell in words that confuse Peter causing him to respond that he doesn't care what Kelsey does.
Peter mentions a fondness for a film in which Kelsey Grammer falls off a stage in "Scammed Yankees".[1] The actor was speaking at a private event for community leaders and the media, for the pre-opening of the Grand Californian in Anaheim, CA.
Kelsey and other celebrities confront Peter after he uncovers a conspiracy to keep Family Guy from winning an Emmy in "Emmy-Winning Episode".