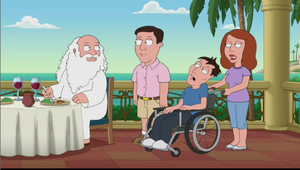 Ken, Pam and Scott appear in a cutaway when Jesus explains to Peter that he doesn't like hanging out with his family during the holidays in "The 2000-Year-Old Virgin".
As God and his girlfriend try to relax at his timeshare in Coral Gables, God finds himself approached by Ken and Pam, a couple with a developmentally disabled adult who demand to know if Scott's condition is all part of God's plan. God assures them that it is, but they should not worry because Scott is destined to live until age 74.
Pam is voiced by Alex Borstein. Ken is voiced by Patrick Meighan.