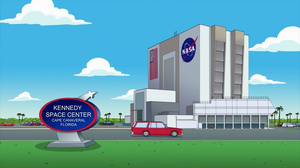 The John F. Kennedy Space Center is the United States launch site that has been used for every NASA human space flight since 1968. Although such flights are currently on hiatus, KSC continues to manage and operate unmanned rocket launch facilities for the US government's civilian space program from three pads at the adjoining Cape Canaveral Air Force Station. It is located on Merritt Island, Florida, the center is north-northwest of Cape Canaveral on the Atlantic Ocean, midway between Miami and Jacksonville on Florida's Space Coast.
Chris attends space camp at the center in "Space Cadet". But when he is picked on by the other kids as well as Jinx, the robot from the film SpaceCamp, he calls for his family to come pick him up. Before leaving, he gives the family a tour of the space shuttle ept on standby for emergencies and Stewie accidentally launches them into space, leaving Chris to apply some of what he learned until mission control can regain the shuttle's autopilot.
Ad blocker interference detected!
Wikia is a free-to-use site that makes money from advertising. We have a modified experience for viewers using ad blockers

Wikia is not accessible if you've made further modifications. Remove the custom ad blocker rule(s) and the page will load as expected.