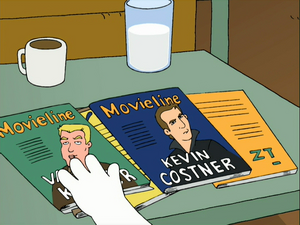 Kevin Michael Costner (born January 18, 1955) is an American actor, singer, musician, producer, director, and businessman. He has been nominated for three BAFTA Awards, won two Academy Awards, and two Golden Globe Awards. Costner's roles include Lt. John J. Dunbar in the film Dances with Wolves, Jim Garrison in JFK, Ray Kinsella in Field of Dreams, Robin Hood in Robin Hood: Prince of Thieves, the Mariner in Waterworld, Robert "Butch" Haynes in A Perfect World and Eliot Ness in The Untouchables. Costner also founded the band Modern West, and has performed with the band since 2007.
He appears on a cover of Movieline magazine in "Brian Does Hollywood". Costner was considered to be the actor whose "movie" Brian Griffin was "directing" when he was trying to impress his family. However, Brian does not like Costner or Val Kilmer, who appeared on another issue of the magazine, so he disdainfully settles on Kilmer.
In "To Love and Die in Dixie", Chris Griffin admits he hasn't been so confused over his feelings for Sam since he saw the Kevin Costner movie, No Way Out.