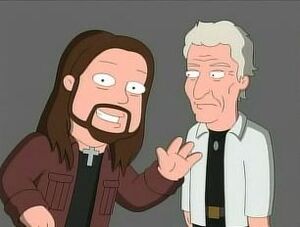 Kevin Cronin (born 6 October 1951) is the lead vocalist, rhythm guitarist, and occasional pianist for the American rock band, REO Speedwagon. REO Speedwagon had two #1 hits on the Billboard Hot 100 written by Cronin, "Keep on Loving You" (1981) and "Can't Fight This Feeling" (1985).
REO Speedwagon appears in concert in "The Splendid Source", having relayed a dirty joke they picked up. They use "Take It on the Run" to help them. When Peter Griffin starts to introduce Time for Me to Fly, lead singer Kevin Cronin interrupts, not wanting his ex-wife to earn the money. John Payne of Asia requests "Only Time Will Tell" instead.
Ad blocker interference detected!
Wikia is a free-to-use site that makes money from advertising. We have a modified experience for viewers using ad blockers

Wikia is not accessible if you've made further modifications. Remove the custom ad blocker rule(s) and the page will load as expected.