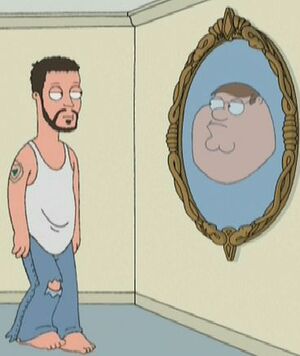 Kevin Earl Federline (born March 21, 1978) is an American dancer, rapper, fashion model, and actor. Previously engaged to actress Shar Jackson, Federline is best known for his two-year marriage to pop singer Britney Spears. The couple's divorce was highly publicized and was followed by an ongoing legal battle for the custody of their two sons, Sean Preston Federline and Jayden James Federline.
He is seen in "Jungle Love", when Peter Griffin gets a job as his magic mirror, who helps him keep his douchebag look.
Ad blocker interference detected!
Wikia is a free-to-use site that makes money from advertising. We have a modified experience for viewers using ad blockers

Wikia is not accessible if you've made further modifications. Remove the custom ad blocker rule(s) and the page will load as expected.